Anathema - Signed Paperback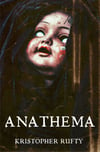 "I've been a fan of Kristopher Rufty since his first book, and though I've enjoyed all of his novels, ANATHEMA is his best and most spine-tingling tale yet. Reminiscent of the novels of Ruby Jean Jensen and imbued with a vintage eighties ghost story vibe, this book is eerie, surprising, and engrossing. It also made me feel like I did when I watched THE CONJURING, which is extremely high praise, given how much I loved that film. Highly recommended!"
--Jonathan Janz, author of CHILDREN OF THE DARK.
Hunter Jensen always dreamed of a big family house in the country. Thanks to the success of his latest novel, he's finally able to make his dreams a reality in the tranquil town of Hargrave, North Carolina. Life is beautiful until his daughter Crystal tells him about the girl who lives in her closet. Her imaginary friendship is only the first of many disconcerting events that threaten to fracture his dream of country living into a nightmare straight out of his novels.
Does an invisible girl truly conjure the sobs that haunt the hallways at night? Is she to blame for the bizarre noises in the darkness? Or has his daughter's vivid imagination simply crept into his own?
As Hunter seeks to uncover the secrets long buried in the town's shadows, he begins to fear a force more sinister than anything he's ever imagined is drawing him and his family toward their demise.
--Every book order comes with a bookmark. All books are signed. If you would like them personalized, please specify in the COMMENTS section of your order.