Angel Board - Signed Paperback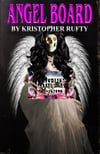 "An occult thriller with a new twist. Rufty juggles captivating characters, breakneck suspense, and insidious horror in a macabre story that will leave you feeling possessed by the end of it. Next time you think about taking that old Ouija board out...forget it!"
—Edward Lee, author of HEADER and THE BIGHEAD.
Not all angels are sane...
Someone saved David Barker's life, but he doesn't know who—or what—she is. Now he's haunted by the image of that beautiful, nebulous vision with the features of a woman and determined to find out why she appeared when he almost died. David uses an angel board in hopes of contacting her, and unfortunately for him, he succeeds.
This angel has loved him all his life, guarded him and protected him. And she'll hurt anyone who interferes with that love. David's guardian angel is obsessive, possessive…and homicidal. Her unyielding love for him will leave a trail of grisly "accidents" and murders as she eliminates all those who want to hurt David.
Or love him.
--Every book order comes with a bookmark. All books are signed. If you would like them personalized, please specify in the COMMENTS section of your order.