Pillowface - Signed Case Laminate Hardback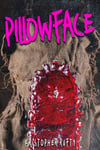 NOTE: This item is a PREORDER. Expected to ship in mid May.
Twelve-year-old Joel Olsen loves all things devoted to horror. Movies, comics, books, and of course his true passion, special-effects. Being raised by his older sister Haley after the sudden death of their parents, Joel is in a world truly of his own.
At the launch of summer vacation Joel finds lying bloodied and near death in his backyard a masked man that is the epitome of what he adores. A flesh and blood slasher maniac! When he invites the masked man into his home to recover from his wounds an unexpected friendship is born, but Joel quickly realizes he's actually become involved in a true to life horror tale that he'll be lucky to survive.
This maniac known as Pillowface is not only an uncontrollable killing machine, but he also has others searching for him, and they will go to great and bloody lengths to find him.
IMPORTANT: All books come signed. If you'd like it personalized, please put that in the comments section of your order.